We are recruiting!
Due to Covid 19, the European Jamboree has moved to 2021. Unfortunately, this means some participants and leaders have had to drop out. There are vacancies for participants, unit leaders and International Service Team (IST).
For a participant application pack email poland2020@WarwickshireScouts.org.uk
For a unit leader or IST application pack email international@warwickshirescouts.org.uk
The deadline to apply is 19 July 2020.
About the European Jamboree
Similar to a World Scout Jamboree, an European Jamboree brings together thousands of international Scouts from across the world. The last European Jamboree was held in the UK in 2005. Every European Jamboree has a theme that shapes the camp and its program.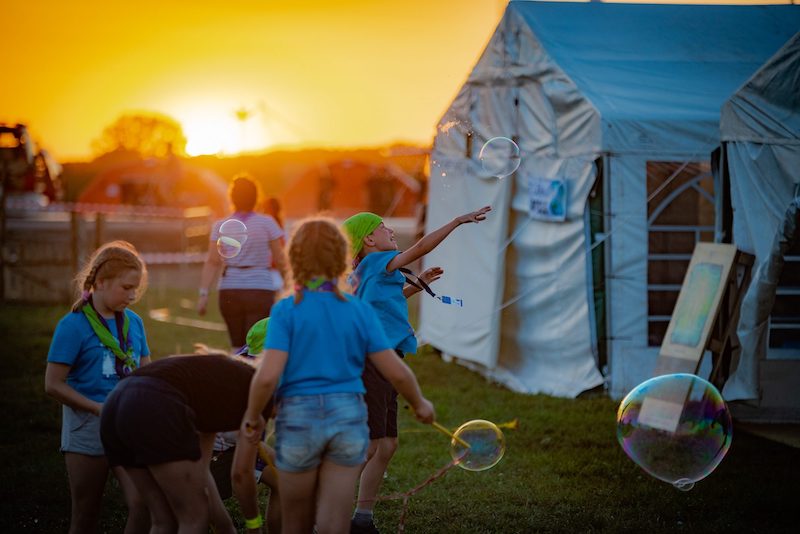 The 2020 European Jamboree
A new, inspiring Scout and Guide adventure awaits in the summer of 2021. Young people from all over Europe and the world will gather in Gdańsk, Poland to celebrate Scout and Guide values, strengthen the international community and will have the opportunity to meet and learn from each other.
What to expect: Participants
The European Jamboree activities will include a huge variety of daily and evening on-site and off-site activities on a private island, similar to a County camp but on a much bigger scale and with the opportunity to meet Scouts from all around world. Such as:
Adventurous, creative and entertaining activity zones

Watersports and beach and activities in the private marina

An off-site overnight service expedition in the beautiful Pomerania region with your fellow Unit members 

A day tour to discover the city of Gdańsk

An international day where everyone will get to host and visit other contingents

Spectacular opening and closing ceremonies
The  opening ceremony called 'WAKE UP!' kicks off the event. Be sure to learn the jamboree song!
The program is structured around the 'Connecting Experience' theme. The activities have been designed to  encourage Scouts and Guides to be aware of global issues and take action to make a difference. Activities link to 17 sustainable development goals including no poverty, climate action and reduced inequality.
The second ceremony is 'The Ceremony of Fire – LOOK AROUND and the jamboree will close with the 'ACT' ceremony amid fond farewells.
Along the way there will be loads of new people to meet with shared scouting values and much swopping of unit badges and neckers as international friendships form. 
What to expect: IST
The IST Experience is an exciting opportunity for adults who want to support the organisation of the European Jamboree. Being a member of the IST is a chance to contribute to the Scouting and Guiding Movement and the development of young people. The IST Experience will also provide opportunities for leaders to develop their skills.
IST will have a schedule of allocated work tasks as well as inspiring programme offers and other activities to attend in their free time. IST members are expected to work hard and help run the Jamboree. Nevertheless, they will also participate in the IST Experience programme. Therefore, there will be ceremonies and activities for the IST, just as there will be social time every day to spend with new and old friends. The IST Experience will be built on three pillars: Service, Free Time Activities (rest, personal development, fun) and Adventure.
Things you need to know: Participants
Age range – Participants will be older Scouts and Explorers. You will have been born on or before 31 December 2007 and be under 18 on 2 August 2021.
Cost – £1000 which includes jamboree fee, travel by coach, insurance, unit merchandise and visits. The unit will provide tents.
You will need spending money and you may need to buy or borrow kit.
Nobody should be excluded on financial grounds and the unit leaders can help you identify sources of funding.
Dates – The jamboree runs from 2nd to 13 August. You will need to leave a few days either side for travel and visits. Current plans suggest the travel dates might be 1st August to 18th August, but these plans have yet to be finalised.
Training camps – Attendance at training camps is mandatory. No excuses! Dates will be provided once your application is accepted.
European Jamboree 2020 or 2021? – This Jamboree is the European Jamboree 2020 – even though it will now take place in 2021.
Things you need to know: Unit Leaders
Age range – Unit leaders must be 18 or over.
Cost – £1000 which includes jamboree fee, travel by coach, insurance, unit merchandise and visits. The unit will provide tents. No leader should be excluded on financial grounds.
Time commitment – The jamboree runs from 2nd to 13 August. You will need to leave a few days either side for travel and visits. You will also need to commit a large amount of time 'behind the scenes', including training camps, planning meetings and fundraising.
Things you need to know: IST
Jamboree fee – 1250 PLN – approximately £255. In addition you make your own travel plans and bring your own tent. All food provided.
Dates – The jamboree runs from 2nd to 13th August. IST are expected to arrive on 31 July for training and leave on 14 August.
What might I be doing? – When your application has been approved by UK HQ and the Polish organisers, you will receive the jobs catalogue. You will be asked to state your top 3 preferences.
Warwickshire IST have so far been allocated roles in admin, safety, media, the medical team, welcoming day visitors, running activities, sightseeing in Gdańsk and more!